Please review our Frequently Asked Questions (FAQ), to learn more about our company and our liquid hand sanitizer products.
About Our Products
We now make BOTH! Hand sanitizer is actually an Over-The-Counter (OTC) topical product regulated by the Food and Drug Administration (FDA), so it must be manufactured to standards approved by them. Our liquid and gel products follows the guidelines set by the FDA, and our product and facility are registered with them as well.
While most are more familiar with gel versions, our liquid product works just as well. The liquid version tend to be applied easier using a spray bottle or automatic touchless dispenser.
See the World Health Organization (WHO) recommended Handrub Formulations HERE.
See the Food and Drug Administration (FDA) temporary policy for preparing alcohol-based hand sanitizer products HERE.

Our sanitizer is manufactured to WHO, FDA and CDC recommendations. Because of this, you may notice a scent you may not be used to when previously using hand sanitizer. This is due to using denatured Ethyl alcohol. Isopropyl alcohols (which can also be used to make hand sanitizer) are not readily available during this crisis. So instead we use denatured alcohols which have a high-alcohol content and an added scent due to processing that makes it undrinkable. This is regulated by law
It is not a bad smell, but you will notice a sweet alcohol aroma from the product inside the bottle. This is a quick-evaporating formula, and there is typically no scent left after applying.
UPDATE: In an effort to provide the best product possible for our customers, we have adjusted our formula to include a NEW IMPROVED LEMON SCENT! This works in harmony with the denatured alcohol to provide a better user experience.

We purchase our product – specially denatured alcohol (SDA) 40-B 190 proof – from a large chemical manufacturer that produces corn-based ethanol, that is then denatured for usage in hand sanitizer. Our denatured alcohol DOES NOT contain Methanol or any other petroleum based products and is denatured using only a bittering agent with accordance to federal guidance.

Our liquid formula follows the FDA and WHO recommended formulation which does not use an emulsifier. It is watery and has the consistency of isopropyl alcohol you would get at a drug store. It can be poured or sprayed onto your hands.
Our gel formula also follows FDA and WHO recommendations, but does include a natural polymer to thicken the product more like you're used to using, and leaves your hands with a lotion-like feel.

YES! Drivergent uses USP Food Grade Glycerin's. This is the ingredient in hand sanitizers that act as a moisturizer for skin. It is similar to the hand sanitizers you would have in dispensers around cruise ships, theme parks and hospitals.

Rest assured, we are Methanol-Free, and NO Drivergent hand sanitizer products contain Methanol!
There is a lot of confusion about this topic, and we encourage you to read our detailed post on the topic HERE.

There is no way to guarantee that any chemical at this point will kill the COVID-19, due to the lack of testing available with it being a new strain. We can only base the effectiveness on similar viruses and what can be used to combat them. This amount has been set to anything over 60% alcohol. However, we obviously can make no guarantees about the effectiveness of our product when it comes to specific bacteria and diseases.

Even though Ethyl and Isopropyl Alcohol both kill bacteria, Ethyl alcohol at concentrations of 80%, is a much more potent virucidal agent inactivating fungus, and many lipophilic and hydrophilic viruses. ​Isopropyl alcohol is typically not classified as a high-level disinfectant because of its inability to eradicate bacterial spores and hydrophilic viruses.
Higher or lower than 80% concentration of alcohol both have disadvantages. The presence of water to dilute the ​Ethyl alcohol to exactly 80%​ is a crucial factor in destroying or inhibiting the growth of pathogenic microorganisms. Water acts as a catalyst and plays a key role in denaturing the proteins of vegetative cell membranes. 80% ethyl alcohol penetrates the cell wall more completely than lesser or higher percentages.
The WHO recommended formulation for local production outlines what guidelines manufacturers must follow in order to state that they meet WHO recommended levels. You can find more information about it HERE.

Yes! The active ingredient in our product is Ethanol (Ethyl Alcohol), which is contained in many of the products on the EPA's List N: of approved disinfectants for Use against SARS-CoV-2 (COVID-19). With it's high alcohol content, this product is effective at sanitizing and disinfectant hard, non-porous surfaces. We do not recommended using on painted or untreated surfaces, and suggest using in inconspicuous spots first to test.
Surface disinfectants are highly-needed but in short supply. When an EPA-registered disinfectant is not readily available, the CDC recommends to use:

Diluted bleach solution
70% or higher Alcohol Solution
Diluted bleach mixtures are only effective for disinfection up to 24 hours after being made.
Why constantly make small daily bleach batches and worry your team is mixing them correctly?
Our 80% Ethyl Alcohol solution can last 2-3 years while maintaining its disinfecting properties – plus it's safe on your hands!
You can review the EPA's recomendations for disinfecting and the use of alternatives HERE.
You can review the EPA's approved List N: Disinfectants HERE.

You can use it in a pump/spray bottle, or directly from the container. Our sanitizer is best used as a refill for personal receptacles to keep on your person when you're on-the-go.
To learn more details, visit our our How To Use page.

The FDA mandates the exact labeling used for hand sanitizers created during the Covid-19 emergency. What this means basically is that a normal plastic container is not sterile, and has to be labeled accordingly. After the container is filled, the sanitizer formulation sterilizes the inside within 72 hours. Every product shipped will have been filled and sealed at least 72 hours prior to receiving. WHO recommends 72 hours to completely sterilize the inside of the container of all microbes, germs, or viruses. Drivergent's hand sanitizer is sterile from the inherent properties of alcohol and hydrogen peroxide..

We sure do. You can view the product spec sheet for our products
HERE
.
We sure do. You can view the safety data sheet for our hand sanitizer product
HERE
.
About Us
Absolutely! In order to begin manufacturing our liquid hand sanitizer we first had to take several steps to ensure we would be making a safe and approved product.
Reviewed the FDA and WHO guidance
Met with chemical manufacturers to ensure quality
Registered our facility, our product and label with the FDA
Retooled our operation to meet stringent Current Good Manufacturing Practices (CGMP) standards
Strictly adhere to the FDA manufacturing guidelines
Post-batch test our product to ensure quality and accurate alcohol content
See the World Health Organization (WHO) recommended Handrub Formulations HERE.
See the Food and Drug Administration (FDA) temporary policy for preparing alcohol-based hand sanitizer products HERE.

As our main transportation business has been temporarily closed due to COVID-19 coronavirus social-distancing guidelines, we felt compelled to find a way to help. Hand sanitizer is in high demand and short supply, and its usage can reduce the spread of bacteria and germs – which can potentially help save lives.

We are proud to be made in the USA! We manufacture our hand sanitizer ourselves at our FDA-registered facility in Metro Detroit, Michigan. Most of our raw materials and bottling products are also sourced in Michigan. This helps us be more efficient and get our product produced and delivered faster.

We understand it may seem that way, but let's take a closer look:
The cost of bottles, raw materials and processing have all greatly increased during the pandemic = supply and demand
With the shortage of small bottles and sprayers, most are selling product sizes larger than you were buying in the store before. Larger sizes do cost more.
But, if you divide the larger sizes by the smaller size you were buying before, you'll see the cost is actually in-line…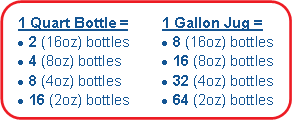 However, as we have increased our manufacturing efficiencies and continued to refine our process, our costs have come down and we're passing those savings on to you!

Our 2-pack of quart bottles = 8 (8oz) bottles. That would be only $2.50/bottle!
Our 1 case (5-pack) of quart bottles = 20 (8oz) bottles. That would be only $2.00/bottle!
Our 1 gallon jug = 16 (8oz) bottles. That would be only $1.75/bottle!
Our 1 case (4-pack) of gallon jugs = 64 (8oz) bottles. That would be only $1.50/bottle!
Make sure you shop around! As with anything you buy there are differences in prices. Not everyone making hand sanitizer is experienced or doing it properly or efficiently – and that can make it cost more for you.

We make many sizes, from personal use to bulk refills. We also offer them in small quantities or bulk cases for businesses.
2oz travel spray bottles
8oz spray/pump bottles
32oz bottles
64oz half gallon jugs
128oz gallon jugs
Yes, we have pumps and sprayers available for most of our bottle sizes. Check out our online store for options.

We use a variety of methods for shipping, depending on where you're located and how much product you're purchasing.
Smaller shipments are sent by UPS or USPS
Local Metro Detroit orders are sometimes delivered by our school bus drivers – next day!
Larger bulk orders are sent by freight truck
At this time, we are offering
FREE Shipping for all orders over $50
.
For the rest of the United States, we have negotiated reduced shipping rates with UPS to deliver our product to you. These low rates allow you to get our product at cost. You can see these rates on the checkout page based on your shipping location.
Bulk wholesale orders will have different freight shipping needs, some of which can be free. Please check out our Bulk Wholesale page for more information.

Unfortunately, we cannot accept any returns of the product due to safety concerns. However, if there is something wrong with your product, please
Contact Us
and we will help resolve or replace.
No problem. The best way is to
Email Us
so we can respond to you quickly. You can also call us at
586-800-DRIVE
.
We'd love to speak with you to help our neighbors and get the word out! The best way is to reach us is to
Email Us
so we can respond to you quickly. You can also call us at
586-800-DRIVE
.