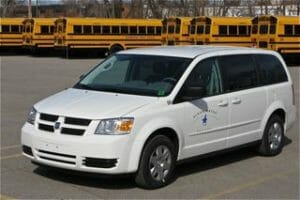 While school buses are the most efficient and safest way to transport students to and from school, they are not the only mode of transportation that is available. There are times when the number or type of students being transported does not work best with a school bus and school sedan and van service may be needed.
In those cases, schools can opt to use a smaller passenger vehicle, such as a sedan, minivan or SUV to transport student from home to school.
A passenger vehicle can be used to transport students to and from school in Michigan if:

The vehicle has a seating capacity of 8 or less passengers, including the driver
Public and private schools and districts can have some transportation challenges that may require the use of passenger vehicle transportation:
McKinney – Vento Homeless Assistance Act compliance

This act has certain requirements for schools on transporting temporarily displaced students. Due to distance or location of a qualifying student, a school bus route may not be available.

Special Need students who must be transported alone or in small groups
Student(s) who do not live near an established school bus route
Student(s) attending a specialty or center-based school that a school bus route does not go to
Student(s) attending an out-of-district school
When the cost of using a passenger vehicle is less than utilizing a school bus for the same service
Learn more about all of the great things to experience across Metro Detroit here: Visit Detroit


Drivergent Transportation's school sedan and van service management experience allows us to become a partner with you in helping to address and solve these problems.
We have the ability to:
Provide individual daily sedan/van route service with our driver and vehicle
Supplement your existing services
Provide coverage for your route service shortages
Provide coverage for unplanned or un-budgeted changes/needs
Both general-ed and special need transportation options available
Provide new service or take over for under-performing providers
Contact Us
to discuss your situation and let us help you create the solution that's right for you. Then you can focus on your primary role – providing the best education and guidance to your students.