How can Drivergent help schools with reopen plans?
All states are mandating schools meet stringent criteria before reopening in the fall. Everyone has had to face unprecedented challenges as a result of the pandemic, and reopening schools creates even more challenges for the safety of staff and students, while balancing unexpected budget constraints.
Drivergent is uniquely positioned to help schools with their reopening plans – better than almost anyone else. Why? Because we were ALREADY your partner! We are a pupil transportation company with over a decade of experience working with schools, so we understand your needs and have to meet the same reopen requirements that you do.
The best part is – we're right here in Michigan! So why not work together towards the common goal!
Here are some of the ways we can help you today:
Automatic Touchless Hand Sanitizer Dispensers
For schools buses and inside buildings
Meets reopen requirements
Lowest pricing available – no need to negotiate
Direct supply from manufacturer – always available
Product to your door in 7-10 days – no long wait times
No minimums or maximum quantities
Table and Floor stand options available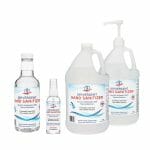 Liquid Hand Sanitizer
We're the manufacturer – so you get the lowest price!
Works perfectly in the automatic touchless dispensers
No need to stock pile – we keep you supplied when needed
Bulk and Personal Use sizes
Our facility is registered with the FDA
Maintain strict production safety guidelines
Our product is also meets the CDC requirements for surface disinfecting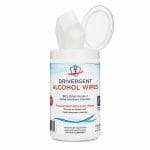 Alcohol Hand Sanitizing / Cleaning Wipes
We manufacture our own alcohol wipes!
Uses our liquid hand sanitizer formula
Extra-Large 10″ x 10″ nonwoven wipers
Safe on hands or used for general cleaning
In-stock and ready to use
COMING IN AUGUST!
We're going to start manufacturing GEL hand sanitizer – YES!!!
Desk size (8oz) gel hand sanitizer pump bottles
Higher count alcohol wipe canisters
Low-cost disposable masks – adult AND child sizes
PPE Kits – pre-made resealable bags containing:

Disposable masks
Disposable gloves
Single-use alcohol wipes
2oz spray bottle of hand sanitizer