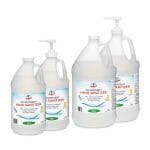 We have BIG NEWS! After extensive product research, development and testing, we are now manufacturing GEL HAND SANITIZER!
While a number of companies began producing liquid hand sanitizer in response to the COVID-19 worldwide pandemic, very few have begun to manufacture gel versions. In fact, we are one of the only one's in Michigan who have made this transition!
The reason for this is that making liquid hand sanitizer is relatively straightforward, as the manufacturing process only requires mixing together a few ingredients with similar properties. In essence, there's really no wrong way to do it as long as you're measuring and calculating properly. This is why the FDA, CDC and WHO allowed the reduction in production requirements, because it is a simple process to follow.
On the other hand, gel hand sanitizer is not as simple process to manufacture. This is because the use of emulsifiers, thickeners or gelling agents use a proprietary process that requires scientific knowledge, testing and refinement to ensure the final product is satisfactory for use. The manufacturing process is also different in that the ingredients do not all have similar properties, so the steps needed to produce it are different and there is more room for error.
We here at Drivergent took nearly 2 months in working with industry experts, scientists and engineers to retool our operation to properly manufacture gel hand sanitizer. We're happy to announce it was worth the wait! Our product goes on smooth, dissipates properly and leaves a lotion-like feel. There's no sticky residue left and it has a pleasant improved lemon scent.
Our customers have been asking for gel hand sanitizer and we're ready to delivery. Check out our Online Store to view all of the sizes we have available. We manufacture daily and always have product in stock!