Description
To help provide for the great need we have during this COVID-19 pandemic, we have retooled our entire operation and become a complete hand sanitizer manufacturing facility. We have become a leading supplier of liquid hand sanitizer and surface disinfectant by producing and bottling our sanitizer in-house, and meet or exceed all governmental and manufacturing standards.
Drivergent Liquid Hand Sanitizer and Disinfectant
Our product is an 80% Alcohol Antiseptic Hand Rub Topical Solution Medical-grade liquid hand sanitizer and disinfectant manufactured to FDA and WHO standards. We test each production batch prior to bottling to ensure quality and concentration standards.
You can learn more about the current FDA and WHO standards HERE.
CLICK HERE to view our Product Spec Sheet.

Our Product Contains (by volume):
80.00% – Denatured Ethyl Alcohol
1.45% – Food-grade Glycerin
0.125% – Hydrogen Peroxide
18.425% – Purified water
Our Credentials:
We are a registered FDA facility and labeler

ANYONE producing hand sanitizer MUST be registered

We have a U.S. TTB alcohol user permit
We have active UPC product label codes
Consistency and Scent
Drivergent Hand Sanitizer is a liquid consistency which is in accordance with the WHO recommended formulations for hand rubs. It can preferred to gel formulas as it can penetrate pores and get into cracks and under nails that gel can't reach.
The hand sanitizer does have a scent in the bottle due to the denatured Ethyl alcohol. Isopropyl alcohols (which can also be used to make hand sanitizer) are not readily available during this crisis. Denatured alcohol has an added scent due to processing to make it undrinkable. This is regulated by law. It is not a bad smell, but you will notice a sweet alcohol aroma that you may not have experienced with hand sanitizers before.
Learn more details about denatured alcohol and answers to other questions on our FAQ's Page HERE.

How To Use Liquid Hand Sanitizer?
Our hand sanitizer can be poured directly from our bottles, used in automatic dispensers, or used to refill your own containers to be used at home or taken with you. As this is a liquid product, it can be applied on your hands by three main methods:

Poured directly from a container
Dispensed from a bottle pump
Dispensed from a spray bottle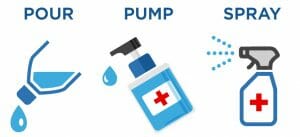 To use:
Wet hands thoroughly with product
and allow to
completely dry without wiping
. For children under 6, use only under adult supervision.
To learn more usage recommendations, check out our How To Use Page.

Disinfectant
Our active ingredient Ethanol (Ethyl Alcohol) is a recognized powerful disinfecting agent.
Drivergent Hand Sanitizer a multi-purpose sanitizer that can be used on hands and for other general purpose cleaning on hard, non-porous surfaces. Due to the high alcohol content, we suggest testing on inconspicuous areas first.
Our Price Comparisons
We're sure you've already noticed our prices are lower than you have seen elsewhere. Our manufacturing efficiencies and locally sourced raw materials are helping to keep our prices down for your benefit. But lets break it down further:

Our 2-pack of quart bottles = 8 (8oz) bottles. That would be only $3.00/bottle!
Our 1 case (5-pack) of quart bottles = 20 (8oz) bottles. That would be only $2.75/bottle!
Our 1 gallon jug = 16 (8oz) bottles. That would be only $2.50/bottle!
Our 1 case (4-pack) of gallon jugs = 64 (8oz) bottles. That would be only $2.35/bottle!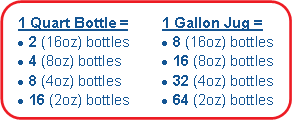 As you can see, we're proud that our prices are in line, or even cheaper, than what you had historically paid in the store!
Are you a store, business, school, government or other large organization? We offer reduced cost bulk wholesale pricing – please visit our Bulk Wholesale page for more information.

Fast Shipping
As we are manufacturing daily, we typically ship out orders next business day.
FREE Shipping anywhere in Michigan! Fast, low cost shipping with FedEx throughout the United States and beyond.
In Metro Detroit, our school bus drivers will be delivering your purchases right to your door – Amazon style.

Product Warning
This product is liquid hand sanitizer to help reduce bacteria that potentially can cause disease. For use when soap and water are not available. For external use only. Flammable. Keep away from heat or flame: Do not use on children less than 2 months of age. Do not use on open skin wounds. When using this product keep out of eyes, ears, and mouth. In case of contact with eyes, rinse eyes thoroughly with water. Stop use and ask a doctor if irritation or rash occurs. These may be signs of a serious condition. Keep out of reach of children. If swallowed, get medical help or contact a Poison Control Center immediately.

Returns
Unfortunately, we cannot accept any returns of the product do to safety concerns. However, if your product is defective or arrives damaged, please contact us and we will help resolve.